Ebola & Marburg Pseudotyped Viral Particles
Ebola and Marburg are two of the deadliest viruses known. To work with these live viruses, you need BSL-4 containment. These facilities are rare, and you may not have access. Performing traditional plaque assays with these viruses is not only time consuming, it also involves risk.
Filovirus Reporter Virus Particles (RVPs) are a safer, easy-to-use solution for your BSL-2 lab. Their built-in luciferase or GFP reporter makes them ideal for viral infectivity and neutralization assays. And they scale readily for high throughput using standard detection instrumentation.
RVPs are replication-incompetent, pseudotyped virus particles. They display antigenically correct envelope glycoprotein on a heterologous virus core. Their modified genome expresses an optical reporter gene within 24 hours of cellular infection. Filovirus RVPs are available as a ready-to-use reagent produced under quality-controlled conditions as a critical reagent.

Applications

✔Antibody neutralization
✔Serum screening
✔High-throughput assays, plate-based assays
Advantages

✔BSL-2 use
✔Quantitative (luciferase) or fluorescent (GFP) readout
✔Quality-controlled production for use as a critical reagent
Infectivity and Neutralization Assays
Our filovirus RVPs are ready-to-use reagents ideal for infectivity and neutralization assays.
An infectivity assay tells you how efficiently a virus can infect host cells. Examples include plaque assays and focus-forming assays. Infectivity assays are useful for measuring viral titer—the number of infectious particles per volume.
A neutralization assay builds on an infectivity assay. It tells you how well a substance blocks a virus from infecting host cells. Neutralization assays are useful for evaluating monoclonal antibodies, serum, and small molecules.
Filovirus RVPs have a GFP or luciferase reporter, making assays with them much easier than a typical plaque assay. You can easily read their infectivity with a luminometer, microscope, or flow cytometer.
Order RVPs with the reporter that's best suited to the equipment you already have.
(A) Ebola RVPs Are Highly Infectious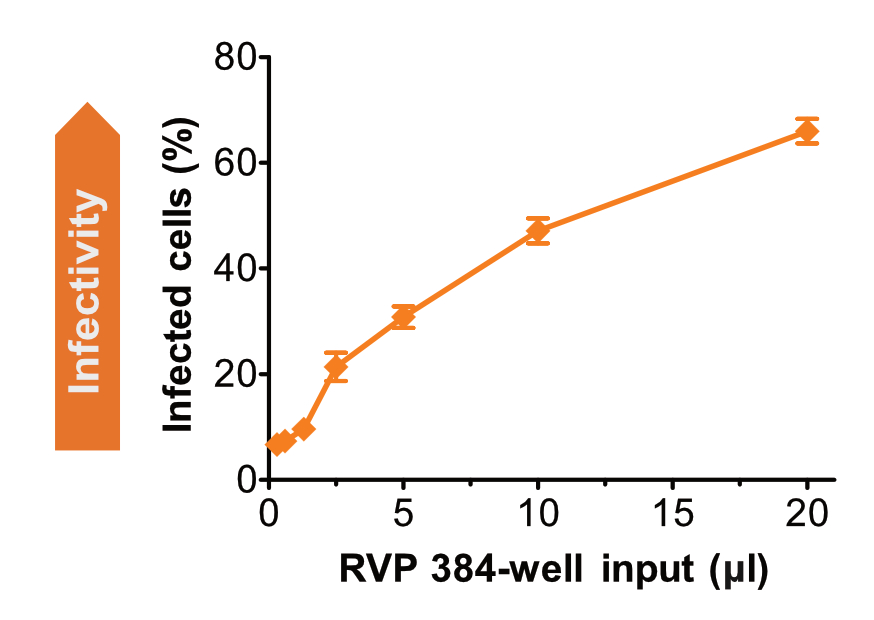 (B) Ebola-specific Antibody Neutralizes RVPs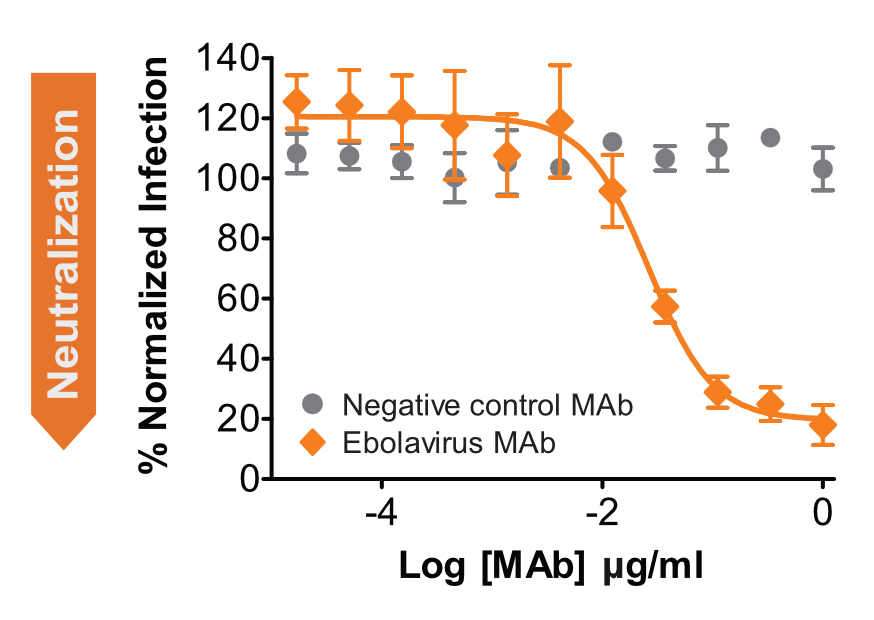 Infectivity and neutralization assays using Zaire ebolavirus RVPs. GFP-positive Huh-7 cells were detected by flow cytometry. (A) The percentage of infected cells increases with RVP input volume. (B) A neutralizing monoclonal antibody (orange) inhibited RVPs from infecting cells. A negative control antibody (gray) did not inhibit infection.
Quality Control and Customization
We test each lot of filovirus RVPs for antibody neutralization and infectivity, and we ensure they are negative for mycoplasma. When you order our RVPs, you get the lot's viral titer and the recommended amount to use in an assay (input volume), as well as links to our latest protocols.
We also offer:
Additional quality control measures, upon request

Large-volume lots, avoiding the need for bridging studies

Custom RVPs
Our filovirus RVPs are created using a second-generation lentiviral system with components that are highly unlikely to recombine to produce a fully infectious virus. RVPs undergo a single round of infectivity.
If you're ready to get started with Filovirus RVPs, please contact us. We have a team of expert scientists ready to assist you in planning or troubleshooting your RVP assay.