The Need
A collaborator developed a library of monoclonal antibodies capable of distinguishing among several cell types by using a phenotypic screening approach. To better characterize these antibodies and the cell types that they bind, the antibody targets needed to be determined.
The Solution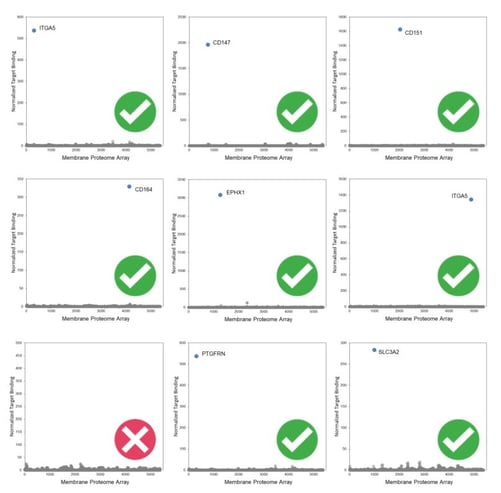 A panel of nine antibodies was screened on the Membrane Proteome Array. This array of 5,300 membrane proteins is the largest library of its kind for cell-based profiling, representing 94% of the human membrane proteome.
An assay set-up experiment was conducted to determine the appropriate transfection cell lines and antibody concentrations. Next, all nine antibodies were screened on the entire Membrane Proteome Array to identify targets.
Eight of the nine antibodies were successfully deorphaned. Targets were validated in a titration binding experiment, and target identities were confirmed by comparison with gene expression profiles of the targeted cell types.
The Impact

The Membrane Proteome Array was successfully used to deorphan panels of antibodies with unknown targets, thereby allowing the validation of new reagents. This strategy has also been used to discover new therapeutic targets for oncology and infectious diseases.