The Need

In response to the COVID-19 pandemic, Abound Bio developed potent neutralizing monoclonal antibodies (MAbs) against SARS-CoV-2. To progress development of a lead MAb, the company sought reassurance that their preclinical candidate did not possess off-target reactivity to human membrane proteins that could result in toxic effects. Off-target reactivity of therapeutic MAbs has been observed with other SARS-CoV-2 MAbs, so testing across the membrane proteome helps to validate therapeutic safety.
The Solution
Integral Molecular's Membrane Proteome Array (MPA) was used to profile a high-affinity antibody that potently neutralizes SARS-CoV-2 by blocking its binding to the ACE2 protein, the receptor interaction driving infection. Abound Bio is developing this antibody for the treatment of COVID-19.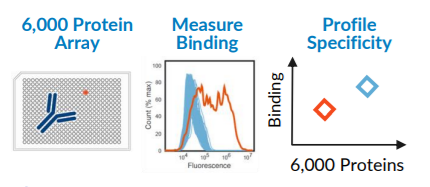 "For this high-priority project, we relied on Integral Molecular's rapid specificity profiling to rule out liabilities arising from unexpected antibody cross-reactivity in human cells."
-Dimiter Dimitrov, PhD, ScD
CSO, Abound Bio
The Impact
MAb Progression for Development