The Need
Totient* is an artificial intelligence-driven biotechnology company that uses advanced immunoinformatics to identify novel targets from cancer-affected tissues and develop high-affinity antibody therapeutics for oncology. High expression of immunoglobulin (Ig) transcripts in human tumors often correlates with favorable clinical outcomes, however, the biological significance of these transcripts is often unknown. Totient evaluated bulk RNA-seq data from solid tumors in the Cancer Genome Atlas, computationally pairing Ig sequences to create tumor-derived recombinant antibodies with the goal of identifying their target antigens. With the generation of nearly 300 antibodies, Totient needed to deorphan their large panel of antibodies to uncover the targets of the high-affinity antibodies that they generated.


The Solution
Integral Molecular's Membrane Proteome Array (MPA) is the leading solution for antibody deorphaning and specificity profiling and is comprised of 6,000 membrane proteins covering ~95% of the human membrane proteome. Binding interactions to full-length, native conformation membrane proteins expressed in live cells are detected using ultra-sensitive high-throughput flow cytometry. We screened 92 tumor-derived recombinant antibodies for Totient using the MPA.
Deorphaning tumor-derived antibodies can be challenging as they often target neoantigens and non-protein antigens. Despite these challenges, the MPA successfully deorphaned 21 of 92 intratumoral antibodies provided by Totient. These antibodies displayed a mix of monospecific and polyspecific target binding. For a subset of antibodies, Totient conducted additional biosensor experiments to study detailed binding kinetics. Two Antibodies (CYC156 and CYC187) independently deorphaned by the MPA showed validated binding to the cancer/testis antigen 1 protein (CTAG1) with high affinity. Whereas CTAG1 expression is normally restricted to testicular germ cells in normal adult tissues, these antibodies were derived from cancerous tissues of the skin, uterus and bladder, suggesting that antibodies targeting CTAG1 could have potential as cancer therapeutics. (Data featured in Rakocevic et al., 2021, bioRxiv)
The Impact
The MPA successfully deorphaned many of Totient's intratumoral recombinant antibodies despite challenges associated with identifying their targets. This work was instrumental in helping Totient better understand the antigens that drive B cell responses in human cancers and characterize their panel of high-affinity recombinant antibodies against them that can be exploited for therapeutics.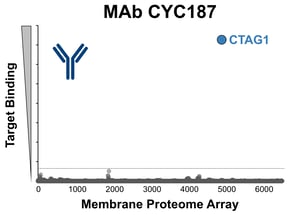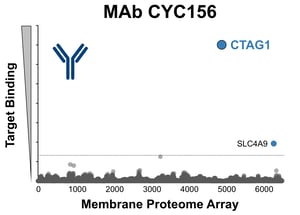 *Totient is now a part of Absci, the synthetic biology company unlocking the potential of proteins as next-generation therapeutics. For more information please visit absci.com.